February 21, 2017 Eby-Brown!! The national supplier for the convenience industry selected Rose Catering to provide 361 box lunches for them!! We are honored that they chose us and truly appreciate their business. It's companies like Eby-Brown that make our company operate as well as make it enjoyable to serve others.
The menu that was selected was turkey, ham, roast beef and vegetable wraps with potato skin snacks, chocolate chip cookies, bottled water and an apple. These box lunches were fun to prepare and challenging at the same time and we are proud to say we pulled it off and are pleased with the outcome!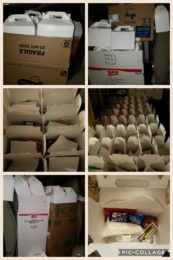 February 24, 2017 Greetings!! Today we were honored to provide another luncheon for Eby-Brown. Their menu of choice was Roast Beef, Mashed Sweet Potatoes, Cheese Tortellini, Green Bean Almandine and Apple Pie. We appreciate the business once again and look forward to serving them on April 5th!