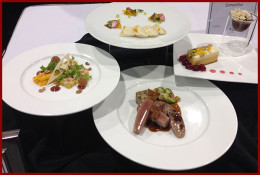 Thank You for considering Rose Catering for your special event. We are a local catering & bbq firm with roots in our community since 1986, serving the Wayne, Oakland, Macomb, Monroe, Washtenaw, Lapeer, Genesee, and Livingston Counties of southeast Michigan and offering a wide range of services. We can work with your budget with a variety of custom menus. (Hot dogs to caviar) The Rose Catering Staff and company is professional, licensed, and insured and ready to make you a guest at your party.
We can cater at your company, office, home, any park, golf course, banquet hall. We also have a rental department can provide you with china, linen napkins, tablecloths, tents, generators, tables, chairs, moon walks, ice cream wagons, chocolate and champagne fountains, flowers.
Your Request is Our Specialty
Remember: Our motto is "Your Request is our Specialty", and our company, staff and corporate chef stand behind that request. We only use the highest quality foods and ingredients to prepare a feast that is worthy of royalty, you and your guests. Our mission is to make sure that you and your guests remember your special day because of our food and service.
Minister Available, Rev. William Kren and Rev. Robin Winfield